Never think that your resume is enough to do the talking for your job application. Why not increase your chances of getting noticed by the recruiters? Here's the secret: Write a cover letter to accompany your resume.
It's your chance to humanize your application. Show your personality through a well-written cover letter to give recruiters an idea about you as an applicant. Doing this sets you apart from the hundreds of applications they receive each day.
Why Write a Cover Letter
First off: What is a cover letter? A cover letter is a document sent with your resume to provide additional information on your skills and professional experience. This is important because it details why you qualify for the job post. However, don't repeat what's in your resume—otherwise, it'll all be redundant. Instead, include specific details that will further support your credentials.
Fun fact: As of April 2019, the employment rate in the Philippines was estimated at 94.9%. Be a part of this statistic! Though the job market is more competitive now, the right tools and proper preparation will make your job search smooth and easy.
Now, let's focus on how to write a cover letter. Here's a step-by-step guide of the cover letter writing tips we'll talk about:
Do your research.
Craft a striking cover letter opening.
Be yourself—while maintaining the proper tone.
Go beyond your resume.
Customize your cover letter for the job and company.
Format your cover letter properly.
End firm and assertive.
Proofread and edit your cover letter.
Have someone read it before submitting.
Read on!
9 Cover Letter Writing Tips to Follow
On top of researching about tried and tested job application tips, you must craft a strong resume and write a cover letter to help you land a job faster.
To give you an overview, here are the basic parts of a cover letter:
Header
Salutation
Introduction
Body
Closing
Signature
Now, how do you write an effective cover letter? Apply these foolproof steps as you write yours.
1. Do your research.
Nowadays, it's amazing how convenient and helpful it is to browse the Internet to get valuable information. So, take advantage of this for your job search. Remember, it's not enough to know the job title only. Your application levels up a notch if you know more about the company and the nature of your target job.
That said, learn the basic details of the company: their mission, their main goals, the owners, and even the work environment. After this, you can mention in your cover letter how interested you are in working with them knowing what their goals are. This adds a personal touch to your application without being too blunt about it.
Further, crafting cover letters varies based on the job level. Thus, look for samples of simple cover letter format for fresh graduates or for no job experience online.
2. Craft a striking cover letter opening.
This is where you start writing an attention-grabbing cover letter. Since your main goal in writing one is to make your application stand out from the rest, get the reader's attention through your introduction.
But first: Who do you write a cover letter to? Go back to step one. Have you researched about the contact person of the company? Your cover letter begins with the header containing both your personal and the employer's contact information (name, address, phone number, email) followed by the date. However, if this is an email rather than an actual letter, include your contact details at the end of the letter after your signature.
Your contact information should include:
First and Last Name
Street Address
City, State Zip
Phone
Email
Second: Begin your cover letter salutation with "Dr./Mr./Ms. Last Name." If you're unsure of your contact's gender, write out their full name. If you don't know the employer's name, simply write, "Dear Hiring Manager." This is better than the generic and formal, "To Whom It May Concern."
Lastly: How do you introduce yourself in a cover letter? Keep it short, since your personal details are already in your resume. State your genuine interest in the job by highlighting your passion for the work you do. Keep it concise. Don't overdo your introduction with flowery words to avoid a fake impression.
3. Be yourself—while maintaining the proper tone.
Writing a professional cover letter doesn't mean you have to use awkward formal language. Again, your cover letter gives life to your application through the personality in your writing; so, make sure to write a clear and direct one.
Now you may wonder: What tense should cover letters be written in? For the most part, use the present tense. You're writing about yourself in the now, applying for your target job. However, use the past tense when you're referring to your accomplishments and achievements.
4. Go beyond your resume.
Why write a cover letter that only repeats what's stated on your resume? Instead, expand on your work history or even your internship experiences. Focus on two to three points and work on that to paint a fuller picture of your background. Further, consider these as you write your letter:
Your approach in handling your past responsibilities that led you to your achievements
Your personality and work ethic which helped you get the job done
These points subtly tell the recruiters how the company would benefit from you. Knowing more about your background lets them assess how you'll fit for the job.
Bonus tip: Don't commit the mistake of mentioning or apologizing for the skills or experiences you lack. Just go on highlighting those that qualify you.
5. Customize your cover letter for the job and company.
Put yourself in the shoes of the recruiters. How would you react if you'll come across a cover letter which seems generic—something that seems to have been written out of a template? Think about that.
It's okay to recycle certain sentences and phrases from your existing cover letter if you opt to apply for different companies and jobs. However, don't write and send out a 100% generic letter. Doing this leaves an impression you didn't put much effort into your writing.
Instead, tailor your letter to the specific position and the company. Mention your specific skills aligned to the job while addressing how the company would benefit from you. This way, the recruiter will see what sets you apart from the other candidates.
6. Format your cover letter properly.
Since you're applying for a job, it's safe to write a cover letter as professional as possible. However, it doesn't stop there. Make sure you format your letter properly.
Use fonts that match what you used on your resume, a simple and a readable one. You can use simple fonts such as Calibri, Arial, Times New Roman, Verdana, and Georgia. A font size of 10 or 12 points is ideal. Also, apply the standard margins of 1" on the top, bottom, and left and right sides of the page.
Further, add a space between the header, salutation, each paragraph, the closing, and your signature. Leaving enough white space makes your letter easier to read.
7. End firm and assertive.
Expert tip: Write a cover letter with a strong closing. End it with assertion and confidence that you're qualified for the position without overdoing it. Reiterate your sincere interest in working with the company. Some examples of how you can end your cover letter are:
"I'm passionate about [Company]'s mission and would love to bring my [add your awesome skills here] to this position."
"I am excited to learn more about this position and demonstrate why I am a great fit for your company."
Also, here are some examples of a cover letter closing:
Sincerely,
Best,
Respectfully,
It's important for you to choose the most appropriate closing statement to use. This further adds to the overall professionalism you aim to show through your letter.
8. Proofread and edit your cover letter.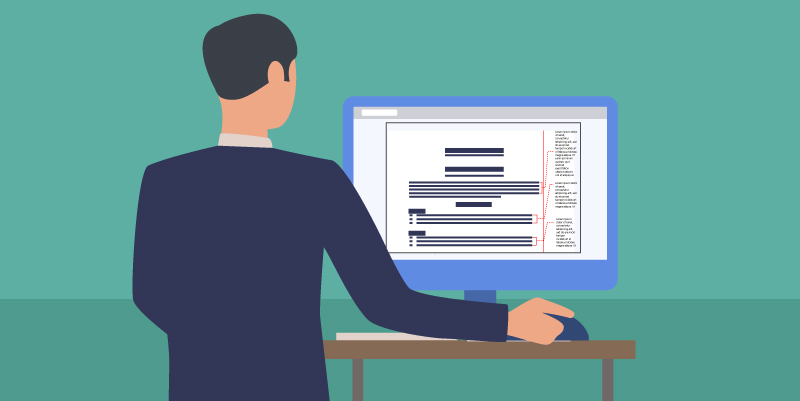 Yay! You're now done. Now what?
After writing, it's now time to recheck your letter. Go beyond spellcheck—and focus on your grammar as well. Once you're done with your letter, set it aside for a day or even a few hours. Read it through again with fresh eyes, and act like you're not the one who wrote it. You may also use spellcheckers and online editors such as ProWritingAid, Hemingway, and Grammarly.
9. Have someone read it before submitting.
Don't stop at editing your own work and settling for it. Find time to ask a friend, relative, or colleague to read your cover letter and provide honest feedback. Tell them to spot errors and help you make your cover letter more readable and understandable. This also helps you assess if your letter conveys your message properly.
Ace Your Job Search Now
Now that your resume and cover letter are ready, what's next? Are you ready to go on with your job search? Ace your job application through Filworx! Sign up now and get access to hundreds of Filworx jobs!
Need more career advice? Browse through our in-depth blogs for career advice, job application tips, and resume writing tips for more!